Leo has gained his motivation …
It did not look good when Leo got sick. The happy and joke-filled Dutchman, who has now become Norwegian, was in a dark place. Cancer and heart problems, four operations and plenty of complications. The pain eventually became hell causing the lively Leo Snoeks to disappear within himself. Frequent hospital visits and a ruptured nerve in his back, he was essentially sick all the way to the bone. "It looked bad. I had almost given up," the ice skater from the Netherlands told us.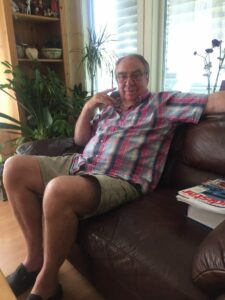 Now Leo has just completed a training session up at the EviBase clinic and his life has officially turned around. It is easy to understand how and why the man sitting in front of us has a lot of people that care about him. Not just his close family but also old sports friends and other good helpers. This is partly because Leo Snoeks was a central part of the Norwegian cycling sports community. His son Leonard was also a talented rider and is now the sports director of the newly founded Norwegian professional team, Uno-X. Proud dad Leo, has been to every competition as a referee, driver of an escort car and as a mechanic. Everyone in the community knows of Leo, and they all subsequently had his back. The always helpful and funny guy has lived in Sandefjord since 1973.
You can read about the Evibase clinic here!
Concerning message
It was natural that immediate family members had to do something when their "rock" gradually got worse. This is how Leonard contacted Petter, who works up at Helseparken and is a friend with physical therapist Per Thomas Mørk. Then it all began to snowball as contact was established. "It is no exaggeration to say the Leo was at his worst when he started up at the clinic. He was exhausted after only a couple minutes on the treadmill, feeling dizzy and sick. His wife picked him up and he ended up back on his couch at home. Per Thomas has followed Leo's road to recovery and can't wait for his continual progression.
Leo has now thrown away his cane and has increased his speed and endurance on the treadmill. "I give all credit to Per Thomas and the clinic up here at Helseparken. Before I was always sitting at home and began to lose contact with my old sports friends. Now I am always out of the house, am regularly training, and don't need to watch theater plays to smile anymore. I was a brilliant actor you know. There were very few that noticed how depressed I was," the former car mechanic mentions. Now he looks to his future and has already made new plans.
Leo and his wife Hanne have a huge passion. They love traveling and are abroad more than the average person. "The U.S and the Netherlands are yearly destinations for us, but we also manage a few other smaller trips as well. We have been around the whole world; however, I still have more places that I want to experience. This all hinges on my health, so I will therefore continue to regularly train. Hanne is of course his traveling companion and not his personal nurse. When we are on a cruise, I am unable to just stay onboard. I want to take a look around wherever we dock, alongside all the other younger travelers," Leo says, He has a clear goal in mind for his new daily training regimen. "I will be as agile as an 18-year-old." This mentality is important, especially as Leo Snoeks gets older.
It has been a brutal period of time for Leo ever since his cancer diagnosis in 2010. However, his personality has many traits that he can take advantage of to get him through hard times. My closest family is my biggest inspiration and are always around to root me on. It is always welcomed encouragement when I am having an off day. I always appreciate my old professional cyclist friend Atle Pedersen, ice skater Øivind Tveter, and other sports buddies. Their support means a great deal to me. For now, the goal is to continue with my interval training sessions on the treadmill. There are still a lot of bike rides and travels that are in my future," concludes Leo, who no longer needs to rely on his acting chops to appear happy.