A while ago one could read in the article published in Daily Medicine that physical activity as a form of medicine requires ability and knowledge. Therese Fostervold Mathisen, a postdoc at Norway's sportd college and a leader in the Norwegian association for health, and a training therapist, hopes that doctors and other health personnel will get aquatinted with the unique knowledge that professionals within sports medicine obtain, and realize the opportunity that that this concept has to transform doctors offices. She states that every year, "various universities in Norway graduate 210 bachelor students with the special ability and competence to use physical activity in the prevention of both physical and mental disorders. Fostervold Mathisen says that there is a great deal of frustration from these educated professionals because there are far from enough advertised positions." Worst of all she adamantly believes that there is not enough recognition or demand for graduates with these perspectives and abilities in the field.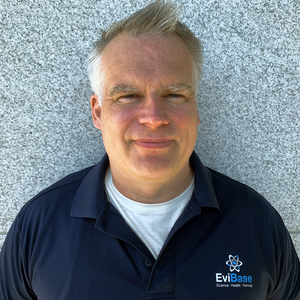 Nils Kähler is medically responsible.
The wellness centers around the country were initially intended to function as an easily attainable service for the local population. However, in many communities there is no service that exists, with the existing resources being severely under prioritized. It is easily understandable that Forstervold Mathisen calls for greater acceptance and usage of using training as medicine. Especially with professional support. In Sandefjord there is such a clinic up and running, and there is routinely those who are both surprised and satisfied with their personal progress. Medically responsible for the clinic, Nils Kähler, is positively surprised with all the progress made by the majority of members, no matter the original diagnosis.
EviBase
Those who work at the clinic, with daily instructor Kine Gulliksen in the forefront, strive to always make members feel both welcomed and well taken care of. For many, it is a bonus to be around people and experience the training clinic as a safe meeting place where people can exchange pasts with like-minded individuals and staff. Members here also have different starting points, but everyone needs to start somewhere. Interestingly the rate of progress is usually fastest with those who come in with less ability.
Daily Instructor Kine Gulliksen is the one who most often has the daily contact with the majority of members. "Here, the goal is for everyone to be taken care of and seen, no matter if it is they who have the responsibility to train. It is important to meet all the members where they are because everyone has different perspectives and have different challenges to overcome. We have a mix of everything here. Either way, it is important to get to know the members in order for both to know what buttons to press so progress can ensue. Our results so far show good progress," Kine Gulliksen says. She has a vast background in sports medicine.
Kine Gulliksen, Clinical Manager
She also emphasizes the need for close follow ups and the physical access to doctors, therapists and other professionals as crucial cogs in the machine that allows our clinic in Sandefjord to thrive. She is convinced that generally, medical professionals do not talk enough about training as a form of medicine with their patients. "There are always some examples, but not all doctors have the needed background to understand this topic and concept. Inactivity is not exactly promoting a healthy lifestyle, and we are able to see what this lifestyle leads to. The availability of competent doctors with a knowledgeable background of the topic is unique. It is important not to forget the nice facilities that we have at Helseparken," Kine Gulliksen explains. She is one of many resource knowledgeable people at the EviBase clinic.
Incorporating researching in a clinical process
The EviBase clinic incorporates research in a clinical process, alongside having routine follow ups over a long period of time. The research-based training is prepared in collaboration with your general practitioner. Moreover, the goal is to reduce medicine intake while using training as a substitute. Here we are talking about the prevention and the treatment of diseases without any negative side effects. The training activities are qualified via research from NTNU (Trondheim). "We will strive to do the utmost to provide specific training to all members and patients through our access to the very best research regarding this topic. This process is to function as both treatment and prevention," Nils Kähler says.
However, it is important for members not to be intimidated by the research-based training program created by NTNU. Every training regimen will be different to most adequately fit the needs of an individual's fitness and health status. We are building one step in front of the other. "We have ambitions to make EviBase clinic a place that feels safe and supportive for everyone. A place to meet where we can get a coffee and plan out our next training session. We provide information so that even beginners can follow their progress closely," Nils Kähler says. He also has a sport medicine background and broad experience of the topic and concept. He is a vital piece that helps the clinic run smoothly.
In conclusion it is clear that we all have friends and loved ones that would benefit from a membership such as the one here at the EviBase clinic in Sandefjord. Our results are sensationally good, specifically in terms of maximum oxygen intake, weight loss, waist size, biological age, and an increased quality of life. Patient progress and development is often underestimated as an addictive substance, however, can absolutely be recommended before other treatments," Nils Kähler ends with. He is more than happy to welcome people for a visit and have a chat up at Helseparken.