Have a lot to thank the EviBase clinic and general practitioner Nils for..
I have the feeling that I am sitting down with a little miracle down at Hvaltorvet. We are drinking an afternoon coffee, and Kariann tells us about how a cancer diagnosis brutally affected her and her family "I noticed a growth in my breast and quickly went to the doctor. There I was diagnosed with breast cancer. Life changes within a matter of seconds, but I am a fighter by nature, and I was certain that I was going to beat this. I have a husband and three daughters to take care of," Kariann S. Ellefsen tells us. She is the HR director at PostNord AS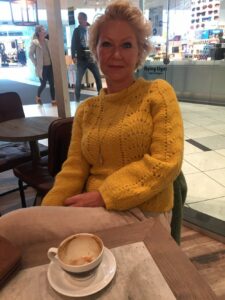 Kariann wanted to be back at work as fast as possible because she is not built for life on the couch. "There was a surgery, and another one, alongside 28 radiation treatments and chemotherapy. The whole shebang. The oncologists at Radium Hospital were phenomenally supportive, however suggested that there would be a long road back to recovery and work. My general practitioner back home in Sandefjord, Nils Kähler, recommended to try training and treatment at the same time. This is how I came into contact with EviBase clinic up in Helseparken. I was welcomed right away and got a specially adapted programs that allowed me to progress faster than expected," Kariann tells us as she sits across the table looking happy and healthy. Two months after her cancer treatment, Kariann was back at work full time.
Full Confidence
In Kariann's case, there was one significant factor that led to her sensational progress. "I realized early on that I needed to trust fully in my doctors' decisions, and that correct, research-based training worked. I met regularly up at training. The treadmill was tiring but in retrospect the strength training felt the most rewarding. Nevertheless, the feeling I got after a training session was amazing. These good helpers were a combination of fantastic, understandable and caring professionals that contributed to quick results. I finished my treatment in December, and in February I was already back at my desk again. Fully restored and back to my old self," Kariann explains to us. It is almost hard to believe her…
Life's Lottery
Kariann tells us how her cancer battle was like a punch in the face. "I have always lived a healthy life including enjoying liquor in moderation, do not smoke, always active and have good genes. Nevertheless, life is both fragile and unpredictable. I was unlucky but believe that health and fitness contributed to a faster recovery. Now I clock in two weekly minimum training sessions at the clinic, and it is often up to three. Luckily, I train alongside my husband who was diagnosed with type 2 diabetes a while ago. And it is not only me that enjoys training up here. He has also started living by healthy values again and limited his medicine intake. Some good advice would be getting yourself a training partner. It makes the whole process easier when you make a commitment with each other," Kariann says. She has no future plans to stop or reduce her hours at the training center.
Her workplace is in Oslo, and with a job that requires a lot of responsibility, she is always on the go. "I have always kept a high tempo, and I have recently felt that I have fully gotten my energy back again. If we are at the cabin, I will frequently go on runs in nature. Recovery is going well, but the fact that the cancer could reappear is always at the back of my mind. If it does, I am confident that I can beat it again. They say that after 5 years the biggest risk is over and with every passing day, the risk only decreases. At least I currently feel great," concludes Kariann. She feels that the systematic and research-based training that she does contributes to a longer life.
If someone in the family gets sick, it is normal for everyone who is close to be affected. "I saw that it was hard for both my daughters and husband when I was at my sickest. With them in mind, I needed to get back on my feet as quickly as possible. Strength of will, training and good helpers were my miracle medicine." Kariann is now officially back on the horse…