Følte meg etter hvert som et nytt menneske
"About 5 years ago I began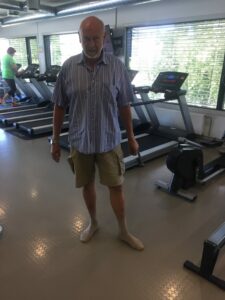 to develop very stiff joints. I struggled for a while with psoriasis which caused the development of rashes and the never-ending search for the right medicine. Now I have been diagnosed with psoriatic arthritis as well which is a disease that causes inflammation in one's joints. I had struggled for a long time with climbing stairs, with my left leg not working correctly at all. I basically always felt like an old man. After commuting to Oslo for long work days the past 20 years, I was finally going to take advantage of the pension system. That at least was my intention," Leif Ole Haugberg (67) tells us
"It should be mentioned that after a while we were able to find some medicine that had a satisfactory effect, but I was in a generally bad physical state. On top of the job in Oslo, we ran a kindergarten, as well as running my own business. I used up the majority of my energy over the course of the workdays and nights. To put it mildly, this subsequently led training to be under prioritized. I admittedly tried going to training and exercise centers for 20 years but gave up after a couple months. It was time to shift my priorities," Leif Ole says.
Leif Ole's rheumatologist recommended to start training again and to be as physically active as possible. "I was on some medicine for a few months, before my general practitioner recommended that I gave EviBase clinic a try. I was nervous because my left knee constantly bothered me, but my expectations for improvement finally came when I put my training clothes on for the first time," explains Leif Ole.
Good health is essential
Now Leif Ole is well underway, and his progress is clear. "I want to be healthy and have ambitions to be healthy for at least the next 10 years. I have even gotten back into skiing again recently. In the beginning I was as stiff as a stick, but after a while both my technique and breathing came back. A fantastic feeling. I now really have the time to pay attention to my health because you never know what tomorrow will bring. I also have ambitions regarding my training. I am constantly trying to increase my oxygen intake while also decreasing my biological age," the energetic 67-year-old tells us.
Leif Ole will soon have a V02 otherwise known as oxygen intake of 60 ml, and a biological age of around 30. If his progress continues, he will soon have to be tested again. "It's all about will power. I luckily have a lot of energy, and struggle with staying still. I don't want to be inactive either. Up here at the clinic, I train on the treadmill and focus my strength training sessions on my legs. I will soon have to increase the weights as well.  I have also noticed that a better physical health contributes to a better mental state and happier life," Leif Ole says. He has many projects that are underway and still has the energy for a busy retirement life.
A little sore along the way
Leif Ole was excited about how his legs and thighs faired, but more specifically how his joints would withstand the interval training up at the clinic. "I have been sore in my legs and hips but have received help from the physical therapist Thomas Mørk. I have also learned to appreciate the importance of stretching after training sessions. I have been good at understanding my body and regulate my training when I notice me getting sore. I have used Evibase clinic here in Sandefjord since November 2018 and have no plans to quit. It works well for me." Leif Ole is convinced that training works well as a form of medicine. He points to his personal story as proof.
Our guy is especially happy that his general practitioner had the background as a sports doctor and was certain that correct training regiments would work for Leif Ole and his preexisting conditions. "There are many days where I now achieve my daily goals, not to mention that I can run up the stairs again. It is an amazing feeling. Furthermore, the significant psoriasis rashes are all but gone, leaving only some barely noticeable, dark sports. I have learned that regular training must continue if I my goal and ambition of an active and interesting retirement life is to come to fruition," Leif Ole Haugberg concludes. For the time being, everything looks great…